Luis Corrons
Luis Corrons has been working in the security industry for more than 17 years, specifically in the anti-virus field. He is Technical Director at PandaLabs, Panda Security's malware research lab. Luis is a WildList reporter, member of the Board of Directors of AMTSO (the Anti-Malware Testing Standards Organization) and a member of the Board of Directors of MUTE (Malicious URLs Tracking and Exchange). He is also a top rated industry speaker at events like Virus Bulletin, HackInTheBox, APWG, Security BSides, etc. Luis also serves as liaison between Panda Security and law enforcement agencies, and has helped in a number of cybercriminal investigations.
@Luis_Corrons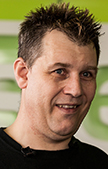 Righard Zwienenberg
Zwienenberg started dealing with computer viruses in 1988 after encountering the first virus problems at the Technical University of Delft. His interest thus kindled, Zwienenberg has studied virus behaviour and presented solutions and detection schemes ever since. Initially, he started as an independent consultant, in 1991 he co-founded CSE Ltd, where he was Research and Development Manager. In October 1995, Zwienenberg left CSE and one month later he started at the research and development department of ThunderBYTE. In 1998, Norman Data Defense Systems acquired ESaSS and Zwienenberg joined the Norman Development team to work on the scanner engine. In 2005, Zwienenberg took the role of Chief Research Officer at Norman. After AMTSO – the Anti Malware Testing Standards Organization – was formed, Zwienenberg was chosen as its president. He serves as a Vice President of AVAR and on the Technical Overview Board of the WildList. Zwienenberg left Norman in 2011 looking for new opportunities and started as a senior research fellow at ESET, spol. s r.o.  In April 2012, Zwienenberg stepped down from the role of President of AMTSO to take on the role as CTO. He also started serving on the executive committee of IEEE ICSG. In April 2015, Zwienenberg returned to the role of President of AMTSO.
Zwienenberg has been a member of CARO since late 1991. He is a frequent speaker at conferences – among these Virus Bulletin, EICAR, AVAR, RSA, InfoSec, SANS, CFET, ISOI, SANS Security Summits, IP Expo, Government Symposia, SCADA seminars, etc. –and general security seminars. His interests are not limited to malicious code but have broadened to include general security issues and encryption technologies over the past years. His hobbies include but are not limited to being a Trekkie, playing the drums, magic and illusions, and balloon modelling.
@RighardZw