Paper: Obfuscation in Android malware, and how to fight back
Posted by Virus Bulletin on Jul 2, 2014
Axelle Apvrille and Ruchna Nigam look at both off-the-shelf products and custom obfuscation techniques.
After a relatively slow start, in recent years mobile malware has really taken off. In many ways, mobile malware has followed the same path as taken by malware targeting desktop PCs. We have seen mobile adware, spyware, fake anti-virus, banking trojans, 'police ransomware' and recently even file-encrypting ransomware.
As with desktop malware, mobile malware commonly uses obfuscation to hide its payloads from analysts' eyes and to make detection by security products more difficult. But, as the underlying operating systems are different, so are the obfuscation techniques used.
Today, we publish a paper by Axelle Apvrille and Ruchna Nigam, two researchers from Fortinet in France, on obfuscation in Android malware. In the paper, they analyse both off-the shelf obfuscation tools and custom obfuscation techniques written by malware authors. They also look ahead at how obfuscation might develop in the future, and at how such future techniques may be detected.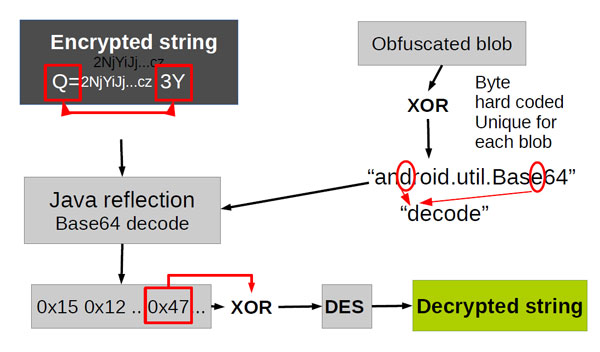 As of this month, all papers published through Virus Bulletin are available free of charge. You can download this paper here in HTML format, or here as a PDF (no registration required).
If you are interested in Android malware, you may also like the two-part analysis (1, 2) of 'Zitmo' ('Zeus-in-the-Mobile'), written by Axelle with her colleague Kyle Yang in 2011.

Posted on 02 July 2014 by Martijn Grooten
Latest posts:
A research paper by AhnLab researcher Minseok Cha looks at the activities of the Red Eyes threat group (also known as Group 123 and APT 37), whose targets include North Korean defectors, as well as journalists and human rights defenders focused on…
We are very excited to announce a special summit, as part of VB2018, that will be dedicated to all aspects of threat intelligence.
An industry approach for defining and detecting unwanted software to be presented and discussed at the Virus Bulletin conference.
The call for last-minute papers for VB2018 is now open. Submit before 2 September to have your abstract considered for one of the nine slots reserved for 'hot' research.
At VB2017, ESET researchers Peter Kálnai and Michal Poslušný looked at how banking malware interacts with browsers. Today we publish their paper, share the video of their presentation, and also publish a guest blog post from Peter, in which he…