Paper: Obfuscation in Android malware, and how to fight back
Posted by Virus Bulletin on Jul 2, 2014
Axelle Apvrille and Ruchna Nigam look at both off-the-shelf products and custom obfuscation techniques.
After a relatively slow start, in recent years mobile malware has really taken off. In many ways, mobile malware has followed the same path as taken by malware targeting desktop PCs. We have seen mobile adware, spyware, fake anti-virus, banking trojans, 'police ransomware' and recently even file-encrypting ransomware.
As with desktop malware, mobile malware commonly uses obfuscation to hide its payloads from analysts' eyes and to make detection by security products more difficult. But, as the underlying operating systems are different, so are the obfuscation techniques used.
Today, we publish a paper by Axelle Apvrille and Ruchna Nigam, two researchers from Fortinet in France, on obfuscation in Android malware. In the paper, they analyse both off-the shelf obfuscation tools and custom obfuscation techniques written by malware authors. They also look ahead at how obfuscation might develop in the future, and at how such future techniques may be detected.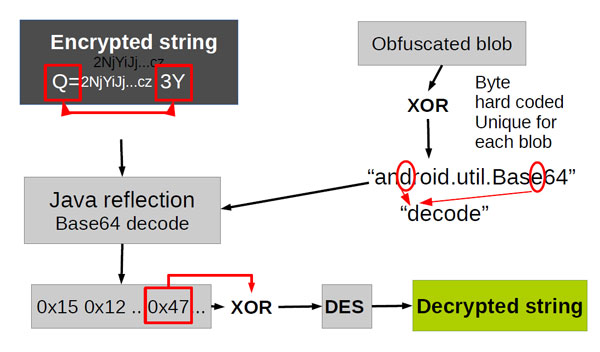 As of this month, all papers published through Virus Bulletin are available free of charge. You can download this paper here in HTML format, or here as a PDF (no registration required).
If you are interested in Android malware, you may also like the two-part analysis (1, 2) of 'Zitmo' ('Zeus-in-the-Mobile'), written by Axelle with her colleague Kyle Yang in 2011.

Posted on 02 July 2014 by Martijn Grooten
Latest posts:
In a new paper, F5 researchers Aditya K Sood and Rohit Chaturvedi present a 360 analysis of Collector-stealer, a Russian-origin credential and information extractor.
VB has made all VB2021 localhost presentations available on the VB YouTube channel, so you can now watch - and share - any part of the conference freely and without registration.
VB2021 localhost - VB's second virtual conference - took place last week, but you can still watch all the presentations.
The call for last-minute papers for VB2021 localhost is now open. Submit before 20 August to have your paper considered for one of the slots reserved for 'hot' research!
Kurt Natvig explains how he recompiled malicious VBA macro code to valid harmless Python 3.x code.