Paper: Obfuscation in Android malware, and how to fight back
Posted by Virus Bulletin on Jul 2, 2014
Axelle Apvrille and Ruchna Nigam look at both off-the-shelf products and custom obfuscation techniques.
After a relatively slow start, in recent years mobile malware has really taken off. In many ways, mobile malware has followed the same path as taken by malware targeting desktop PCs. We have seen mobile adware, spyware, fake anti-virus, banking trojans, 'police ransomware' and recently even file-encrypting ransomware.
As with desktop malware, mobile malware commonly uses obfuscation to hide its payloads from analysts' eyes and to make detection by security products more difficult. But, as the underlying operating systems are different, so are the obfuscation techniques used.
Today, we publish a paper by Axelle Apvrille and Ruchna Nigam, two researchers from Fortinet in France, on obfuscation in Android malware. In the paper, they analyse both off-the shelf obfuscation tools and custom obfuscation techniques written by malware authors. They also look ahead at how obfuscation might develop in the future, and at how such future techniques may be detected.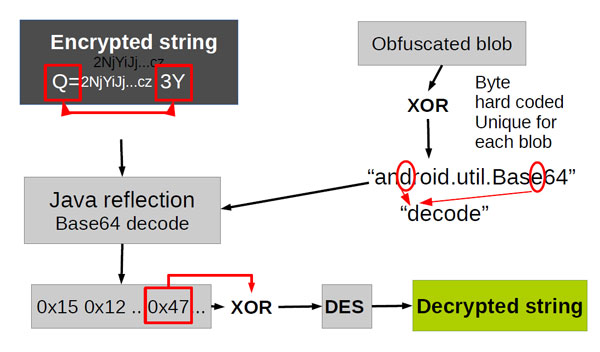 As of this month, all papers published through Virus Bulletin are available free of charge. You can download this paper here in HTML format, or here as a PDF (no registration required).
If you are interested in Android malware, you may also like the two-part analysis (1, 2) of 'Zitmo' ('Zeus-in-the-Mobile'), written by Axelle with her colleague Kyle Yang in 2011.

Posted on 02 July 2014 by Martijn Grooten
Latest posts:
Today we publish the VB2018 paper and video by ESET researcher Filip Kafka, who looked at the new malware by Hacking Team, after the company had recovered from the 2015 breach.
We see a lot of spam in the VBSpam test lab, and we also see how well such emails are being blocked by email security products. Worryingly, it is often the emails with a malicious attachment or a phishing link that are most likely to be missed.
Mydoom turns 15 this month, and is still being seen in email attachments. This Throwback Thursday we look back to March 2004, when Gabor Szappanos tracked the rise of W32/Mydoom.
Have you analysed a new online threat? Do you know a new way to defend against such threats? Are you tasked with securing systems and fending off attacks? The call for papers for VB2019 is now open and we want to hear from you!
Today, we publish a VB2018 paper by Google researcher Maddie Stone in which she looks at one of the most interesting anti-analysis native libraries in the Android ecosystem. We also release the recording of Maddie's presentation.