Paper: Obfuscation in Android malware, and how to fight back
Posted by Virus Bulletin on Jul 2, 2014
Axelle Apvrille and Ruchna Nigam look at both off-the-shelf products and custom obfuscation techniques.
After a relatively slow start, in recent years mobile malware has really taken off. In many ways, mobile malware has followed the same path as taken by malware targeting desktop PCs. We have seen mobile adware, spyware, fake anti-virus, banking trojans, 'police ransomware' and recently even file-encrypting ransomware.
As with desktop malware, mobile malware commonly uses obfuscation to hide its payloads from analysts' eyes and to make detection by security products more difficult. But, as the underlying operating systems are different, so are the obfuscation techniques used.
Today, we publish a paper by Axelle Apvrille and Ruchna Nigam, two researchers from Fortinet in France, on obfuscation in Android malware. In the paper, they analyse both off-the shelf obfuscation tools and custom obfuscation techniques written by malware authors. They also look ahead at how obfuscation might develop in the future, and at how such future techniques may be detected.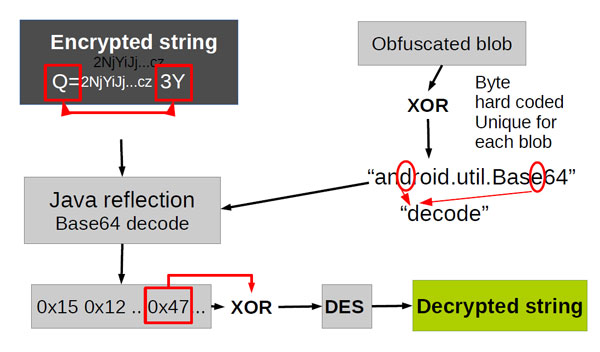 As of this month, all papers published through Virus Bulletin are available free of charge. You can download this paper here in HTML format, or here as a PDF (no registration required).
If you are interested in Android malware, you may also like the two-part analysis (1, 2) of 'Zitmo' ('Zeus-in-the-Mobile'), written by Axelle with her colleague Kyle Yang in 2011.

Posted on 02 July 2014 by Martijn Grooten
Latest posts:
Today, we publish the VB2018 paper by Symantec researchers Aishwarya Lonkar and Siddhesh Chandrayan on the security risks that come with WebAssembly.
In 2019, the Virus Bulletin conference is set to return home, with VB2019 taking place in London, UK.
In a guest blog post, Kaspersky Lab's Anton Shingarev considers the case for increasing transparency in cybersecurity.
Workshops make their VB Conference debut during VB2018, giving delegates the opportunity to learn the basics of kernel-level malware analysis, Android reverse-engineering and artificial intelligence.
Today we publish a short article by Ronen Slavin and Michael Maltsev, researchers at Reason Software Company, who dive into the video capturing internals on Windows, and explain how this can be used by a malicious actor to steal images recorded by a…