Paper: Obfuscation in Android malware, and how to fight back
Posted by Virus Bulletin on Jul 2, 2014
Axelle Apvrille and Ruchna Nigam look at both off-the-shelf products and custom obfuscation techniques.
After a relatively slow start, in recent years mobile malware has really taken off. In many ways, mobile malware has followed the same path as taken by malware targeting desktop PCs. We have seen mobile adware, spyware, fake anti-virus, banking trojans, 'police ransomware' and recently even file-encrypting ransomware.
As with desktop malware, mobile malware commonly uses obfuscation to hide its payloads from analysts' eyes and to make detection by security products more difficult. But, as the underlying operating systems are different, so are the obfuscation techniques used.
Today, we publish a paper by Axelle Apvrille and Ruchna Nigam, two researchers from Fortinet in France, on obfuscation in Android malware. In the paper, they analyse both off-the shelf obfuscation tools and custom obfuscation techniques written by malware authors. They also look ahead at how obfuscation might develop in the future, and at how such future techniques may be detected.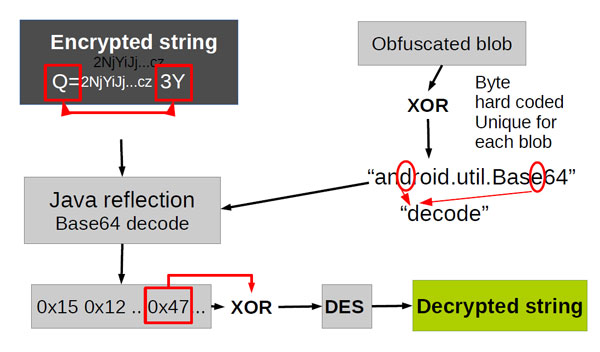 As of this month, all papers published through Virus Bulletin are available free of charge. You can download this paper here in HTML format, or here as a PDF (no registration required).
If you are interested in Android malware, you may also like the two-part analysis (1, 2) of 'Zitmo' ('Zeus-in-the-Mobile'), written by Axelle with her colleague Kyle Yang in 2011.

Posted on 02 July 2014 by Martijn Grooten
Latest posts:
New additions to the VB2019 conference programme include a closing keynote address from Thinkst duo Haroon Meer and Adrian Sanabria and a talk on attacks against payment systems.
Virus Bulletin is excited to announce that, thanks to generous sponsorship from Google Android, we are able to offer 20 free tickets to students who want to attend VB2019.
The Lazarus Group, generally linked to the North Korean government, is one of the most notorious threat groups seen in recent years. At VB2018 ESET researchers Peter Kálnai and Michal Poslušný presented a paper looking at the group's various…
Virus Bulletin is proud to sponsor this year's BSides London conference, which will take place next week, and we have a number of tickets to give away.
We are excited to announce the first 11 companies to partner with VB2019, whose support will help ensure a great event.