Registration for VB2018 now open!
Posted by Martijn Grooten on May 8, 2018
Registration for VB2018, the 28th Virus Bulletin Conference, which will take place in Montreal 3-5 October this year, is now open.
Last month, we announced an exciting and wide-ranging programme for the conference, with keynotes from John Lambert (Microsoft) and Wendy Nather (Duo Security), and talks from many renowned speakers including Paul Vixie (Farsight Security), Lysa Myers (ESET), Patrick Wardle (Digita), Maddie Stone (Google), Juan Andres Guerrero-Saade (Recorded Future) Jérôme Segura (Malwarebytes), and more than 30 other names — with more still to be added later in the year.

With speakers from more than 15 countries, VB2018 is also a very international conference. This is important, because while the threat landscape is  global, it differs in subtle, but essential ways across different locations.
VB2018 is thus the place to be to learn about the important threats and challenges we're facing directly from the researchers who analyse them. Whether you're a security researcher yourself, a product manager, a security evangelist, or you are tasked with defending your organisation's network, by joining us in Montreal in October you will also have the opportunity to build the connections that are essential for your work throughout the year.
Included in the ticket price are a range of social activities, as well as workshops on kernel-mode malware analysis and on Android reverse engineering.
To ensure you don't feel drowned among thousands of attendees, and to make it easy for you to meet the people you want to connect with, ticket numbers are limited. So book yours now – and also benefit from the early bird discount before 1 July.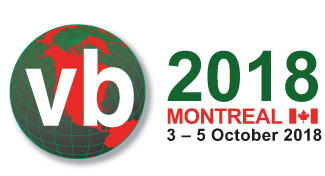 Latest posts:
At VB2020 localhost James Haughom, Stefano Ortolani and Baibhav Singh gave a presentation in which they described how XL4 macros are being weaponised and the evolution of the techniques used.
The Ford Foundation has launched a tool designed to help nonprofit organizations assess their own cybersecurity efforts.
At VB2020 localhost Paul Jung, of Excellium Services, detailed an incident response that he and his team faced when, in December 2019, a Belgian hospital required their help to manage a breach of their informations system.
At VB2020 localhost, ESET researcher Ignacio Sanmillan spoke about Ramsay, a toolkit specifically designed to steal documents and operate within air-gapped networks.
As part of VB2020 localhost we were proud to co-host the Threat Intelligence Practitioners' Summmit (TIPS), put together by the Cyber Threat Alliance. In a series of blog posts we highlight some of the talks presented in the Summit and the important…